Thoroughbred Breeders Australia has set up a mental health and wellbeing support service for those working in the breeding industry.
The Stud Staff Support Line provides access to free, independent and confidential face-to-face or phone counselling sessions at a time and location of your choosing.
Anybody working directly in breeding can access the service by calling 1300 822 935 and scheduling an appointment with a counsellor.
Non-urgent sessions can be booked anytime between 8am-6pm Monday-Friday however, 24/7 support is always available.
To access the service for free, simply quote Thoroughbred Breeders Australia as your employer when you call, although this information will not be shared with TBA.
Your personal details and what you choose to discuss with the counsellor will remain completely confidential.
Alternatively, you can download the AccessMyEAP app to make an appointment, as well as access a range of tools and resources to support your mental health and wellbeing.
The service is provided by AccessEAP on behalf of TBA. They operate independently and have a network of over 2,000 psychologists and clinical professionals around the country with a minimum of 5 years postgraduate clinical supervised experience.
AccessEAP has been providing support to organisations for over 30 years and they are a member of the Employee Assistance Professional Association Of Australasia.
Frequently Asked Questions
I need to talk to somebody, what do I do?
Simply call 1300 822 935 and tell them you are calling from Thoroughbred Breeders Australia. You can make an appointment to speak to a trained psychologist or, if it's urgent, ask to speak to a counsellor straight away. The line is open 24 hours a day, all year round.
What kind of problems can I call about?
The psychologists and counsellors are trained to talk to you about any issues that may be affecting your mental health. This could be anxiety, stress, depression, gambling issues, financial concerns, relationship matters, issues caused by alcohol or drug use, work place problems and so on.
Is this service free?
Yes, Thoroughbred Breeders Australia is providing the service to all staff in the breeding industry. You will have access to three free counselling sessions annually. Should you and your psychologist decide more sessions would be appropriate they will help transition you onto a Mental Health Care Plan which is Medicare supported.
Is it really confidential?
The counsellors are bound by strict codes of practice and none of your personal details will be passed on to TBA or your employer. A psychologist can only break confidentiality if they think you are at risk of harming yourself or another person.
I work long hours and won't be able to attend appointments?
AccessEAP, who run the Stud Staff Support Line, are available around the clock and will be able to provide a phone appointment at a time that works for you.
How do I use the AccessMyEAP App?
Downloading and setting up the app only takes a couple of minutes.
Download the AccessMyEAP app for free via the App Store or Google Play.
Select 'Register for New Account'.
Enter your name, personal email address and create a password.
Enter the domain name: tbaus.com
You'll now receive a verification email and once you've clicked on that, you are good to go. You can use the app to schedule appointments via phone or video-chat, access 24/7 support, and keep track of your mental health and wellbeing via the Wellbeing Tracker.
Resources for farms
To help create awareness among your staff and peers, we have designed the following posters for you to download: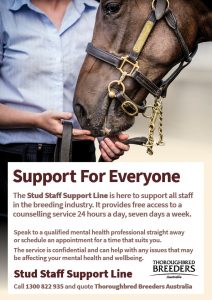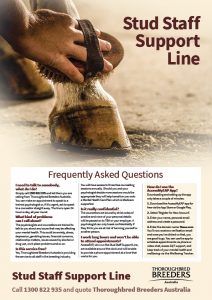 Click here to download posters
We strongly encourage you to print these and display them around the farm. Some suggested areas are: staff accommodation, lunch rooms, feed shed, stud office, covering shed, and the yearling barn.
We also recommend you incorporate this information into your staff Work Health Safety induction process. A great tip is to get staff to save the phone number directly to their mobile and download the app straight away.