TBA Centenary Booklet – Celebrating 100 Years of Breeding (1919 – 2019)
In 1919 Australia's thoroughbred breeders did what no other section of their industry had done before, or has done since: they began to form an effective, functioning national body.
Initially known as the Bloodhorse Breeders' Association of Australia, it has had a number of incarnations, and is now Thoroughbred Breeders Australia (TBA).
Over the past century, it has been a body that has confronted every issue on behalf of Australian breeders. It has endured war, pestilence, financial crises and drought.
It has taken the fight up to governments and racing administrators, promoted technological advances, provided counsel, ingenuity and leadership at home and abroad.
From the day it was established in the aftermath of World War I, the association has been the united voice of one of this country's oldest and most successful industries.
This history of TBA provides an overview of the organisation, some of the personnel who have shaped it and some of the issues it has tackled.
Click below to view a Flipbook of the TBA Centenary Booklet.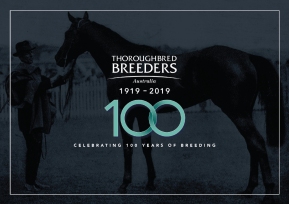 _____
Inaugural Strategy Review 2018
Thoroughbred Breeders Australia (TBA) and Aushorse released its inaugural Strategy Review in 2018. This report outlines initiatives undertaken in 2017 and also outlines some of our aims for the coming year.
Click below to view a Flipbook of this document.